Brain and neuromuscular
Our brain and neuromuscular services are located on site at Southampton General Hospital within the Wessex Neurological Centre, which is one of the largest and most highly-regarded neurological units in the UK.
We provide acute neurosurgical and neurological care for a population of around three million people across central southern England and the Channel Islands and was named as a Centre of Excellence in 2016.
The central nervous system is highly complex and so are the diseases that affect it. We treat a wide range of conditions which require the skills of many different specialists. Frequently, a patient's overall care will be overseen either by a neurologist or a neurosurgeon (if surgery is anticipated). Extensive support is also provided by other teams during investigation and treatment.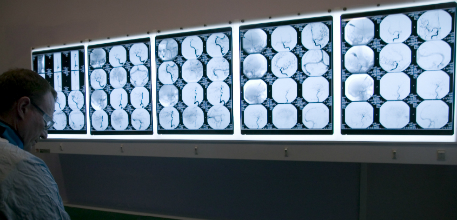 Neurology

Neurosurgery

Neurophysiology

Neuropsychology

Neuroradiology

Neuroanaesthesia

Neurosciences intensive care unit (NICU)
Contact us
For enquiries about an admission, appointment, operation date or to let us know of any changes to arrangements please telephone:
Neurology admissions
Admissions (surgery appointments only)

Telephone 023 8120 6784
Telephone 023 8120 4018
Telephone 023 8120 5510

Patient service centre (outpatient appointments only)

Telephone 023 8120 8998 (neurology)
Telephone 023 8120 6067 (neurosurgery)

Portsmouth neurology office

Telephone 023 8120 4922 - enquiries regarding appointments for neurology patients seen at Queen Alexandra Hospital (visit the QA website here)

Isle of Wight neurology office