Southampton Children's Hospital
Southampton Children's Hospital (SCH) leads the UK as one of the top three paediatric treatment centres.
We provide world class medical care for children across the south of England and further afield who are experiencing some of the most complex and severe illnesses and injuries. Part of University Hospital Southampton (UHS), one of the UK's largest teaching Trusts, together we deliver transformative healthcare through pioneering treatment and research. Programmes that not only achieve many of the UK's firsts in the field of children's medicine, but also outstanding outcomes and lifetime care, from pre-birth through to end-of-life.
Our Centres of Excellence are led by specialist teams world-renowned for their expertise in cardiac, neurosciences, cancer, trauma and intensive care – in fact, we cover almost every specialism you can think of. Our doctors, nurses, therapists and wider children's healthcare professionals have expertise in every childhood condition and offer continuity of care from diagnosis to treatment, rehabilitation and recovery. Working in partnership with our UHS colleagues in adult medicine we ensure that, where needed, we support our patients' transition seamlessly into our adult care services on the same site when they reach 18.
The children we treat have always been and will always be our priority, but we extend that to the family that support them. We understand that caring for your child and ensuring the best outcome for them is a team effort, so we believe in supporting the family unit and bring you into our team to share decisions and shape your child's care.
We hope you never need us but, if you do, know that you're in the hands of one the best children's hospitals in the country, possibly the world.
Leading research
We have a long and enviable history of being a research leader in children's health creating a reputation that is built upon a longstanding partnership between University Hospital Southampton NHS Foundation Trust and the University of Southampton. The partnership proudly hosts a National Institute for Health and Care Research (NIHR) Southampton Clinical Research Facility and a Biomedical Research Centre.
We run hundreds of studies at any one time spanning a wide range of conditions, such as cystic fibrosis, inflammatory bowel disease and rare lung conditions. Researchers are also exploring how asthma and allergy can be prevented from an early age.
This means that our patients have some of the best access to new therapies and technologies in the country. This includes ground-breaking cancer treatments.
Together with our research partners, we are improving treatments and care through research and helping to transform children's lives.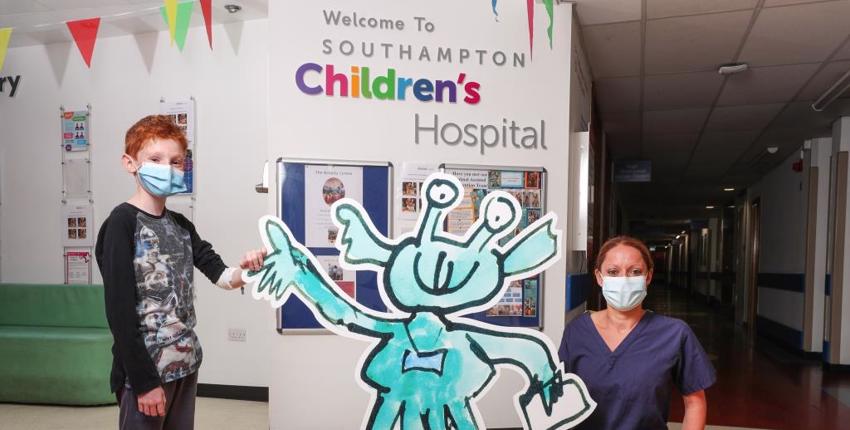 Address
Southampton Children's Hospital
Southampton General Hospital
Tremona Road
Southampton, Hampshire
SO16 6YD
Telephone
023 8077 7222
Map link