Wednesday 15 September 2021
Hospital trust recognised for its commitment to the armed forces
University Hospital Southampton (UHS) has been recognised nationally for its commitment to improving NHS care for people who serve or have served in the UK armed forces and their families.

Awarded by the Veterans Covenant Healthcare Alliance (VCHA), UHS joins 75 other Trusts nationwide who have received Veteran Aware Trust status.
It recognises organisations who are leading the way to ensure this group of patients are cared for by staff who have received specialist training on the specific health needs of military personnel and veterans.
This can include ensuring continuity of healthcare when personnel are redeployed, delivering a personalised care programme for those members who have left the forces with a complex and lifelong health condition or signposting for wider support if needed.
The VCHA is made up of a group of NHS providers and works closely with NHS England and NHS Improvement, service charities and the Ministry of Defence.
The alliance was set up following The Chavasse Report in 2014 which was written by leading orthopaedic surgeon Professor Tim Briggs CBE on improving armed forces and veteran care while raising NHS standards.
One of the recommendations was to establish a support network of hospitals resulting in the development of the VCHA.
UHS also has a dedicated welfare officer, Sarah Bartlett-Bond, who is funded by the Defence Medical Welfare Service (DMWS) and is assigned solely to the Trust to work with veterans and serving personnel.
Her role includes the coordination of funding for equipment and specialist kit, emotional and practical support such as assistance in funeral planning for families who have lost a loved one, counselling for individuals experiencing loss or trauma as well as accompanying patients to appointments to help take notes if needed.
E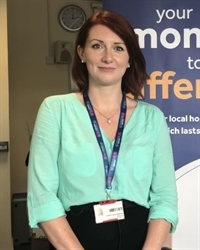 mma Squires, patient experience improvement manager at UHS and lead for the care of veterans and serving personnel, said: "Becoming accredited is the first step in an exciting journey for UHS.
"We are committed to providing focused support to veterans and current serving personnel, ensuring that a move due to posting or deployment to a new location doesn't impact upon waiting times for procedures or the care that they receive.
"We have joined a wider network of hospitals across the country who are standing up and promising to support these individuals and their families. Our support can be arranged for the veteran as an individual and/or their spouse/partner and their children.
"Sarah's work with us has been invaluable. She recently supported a family whose loved one was admitted following a road traffic accident where she was able to liaise with the family, help to arrange visits and offer practical support in arranging equipment to facilitate the patient returning home as quickly and safely as possible."
Miss Squires added: "Our next step is to develop the training and deliver it to as many staff as possible in order to have approximately 150 veteran champions across all clinical areas.
"We want to start the conversations around "are you a veteran?" so that it is being asked routinely and we can ensure that those who have served are getting the extra support they deserve.
"The help that can be arranged is vast and can have a hugely positive impact on an individual's engagement and their experience of the care. We are also pleased to say this extra support is available for current and former NHS staff, police and fire service workers thanks to the generosity of the DMWS."
Professor Briggs, NHS national director for clinical improvement and co-chair of the VCHA, said: "These trusts should be very proud of the commitment they have made to the service men and women of this country.
"Welcoming them into the Veterans Covenant Hospital Alliance is a major step towards our aim of ensuring every NHS trust in the country is Veteran Aware."
General Lord Richard Dannatt, patron of the VCHA and former head of the British Army, said: "Although the British Armed Forces are not currently engaged in high profile campaigns such as in Iraq and Afghanistan in recent years, the health and wellbeing battles for many veterans continue.
"The VCHA is playing a major part in helping our brave veterans win their personal battles."
Trusts recognised as 'Veteran Aware' are able to use the accredited tick and display posters in their clinics and public waiting areas urging anyone who has served in the armed forces to make themselves known to staff.
Patients, carers and family members at UHS are encouraged to contact the Patient Support Hub on 0800 484 0135 to highlight themselves as being a veteran. A flag will be placed on their records to record their eligibility for this further support. A veteran is anyone who has served for at least one day in Her Majesty's Armed Forces (regular or reserve) or merchant mariners.