Friday 03 February 2023
Royal surprise for newborns at Princess Anne Hospital
There was a surprise Royal visit for newborns this morning as HRH The Princess Royal marked 42 years since opening Princess Anne Hospital.
Amy Hartnell and David Austin, from Southampton, along with baby Albert George, born yesterday (Thursday), met The Princess Royal during her tour, making the special event even more memorable for the family.
Delighted to have been here during the visit, Amy explained that her father-in-law had previously worked as part of the police escort for HRH when she officially opened the hospital in 1981.
The Princess Royal was also among the first visitors to meet baby Rosie Eccleston, born today (Friday) at 12.26am to parents Charlotte Brash and Cory Eccleston, from Sway, who described the occasion as "very unexpected but a special way to mark the birth of baby Rosie".
Parents Siobhan and Joe Biles, from Southampton, were also thrilled to introduce their new baby boy, Cody Harlo Joey Biles, born on Wednesday.
They sadly lost their second child last year at seven months old to sudden infant death syndrome (SIDS) and have named Cody after his brother, Harlo Joey, in his memory.
Mum Siobhan described the visit as "emotional but very special after a difficult year". The Princess Royal was very compassionate as she listened to their story but there were smiles all round as they introduced baby Cody to the special visitor.
The Princess Royal, who is Patron of the Royal College of Midwives (RCM), was greeted on arrival by a number of senior Trust staff including David French, chief executive at UHS, Jenni Douglas-Todd, chair at UHS, Gail Byrne, chief nursing officer at UHS, and Emma Northover, director of midwifery at UHS.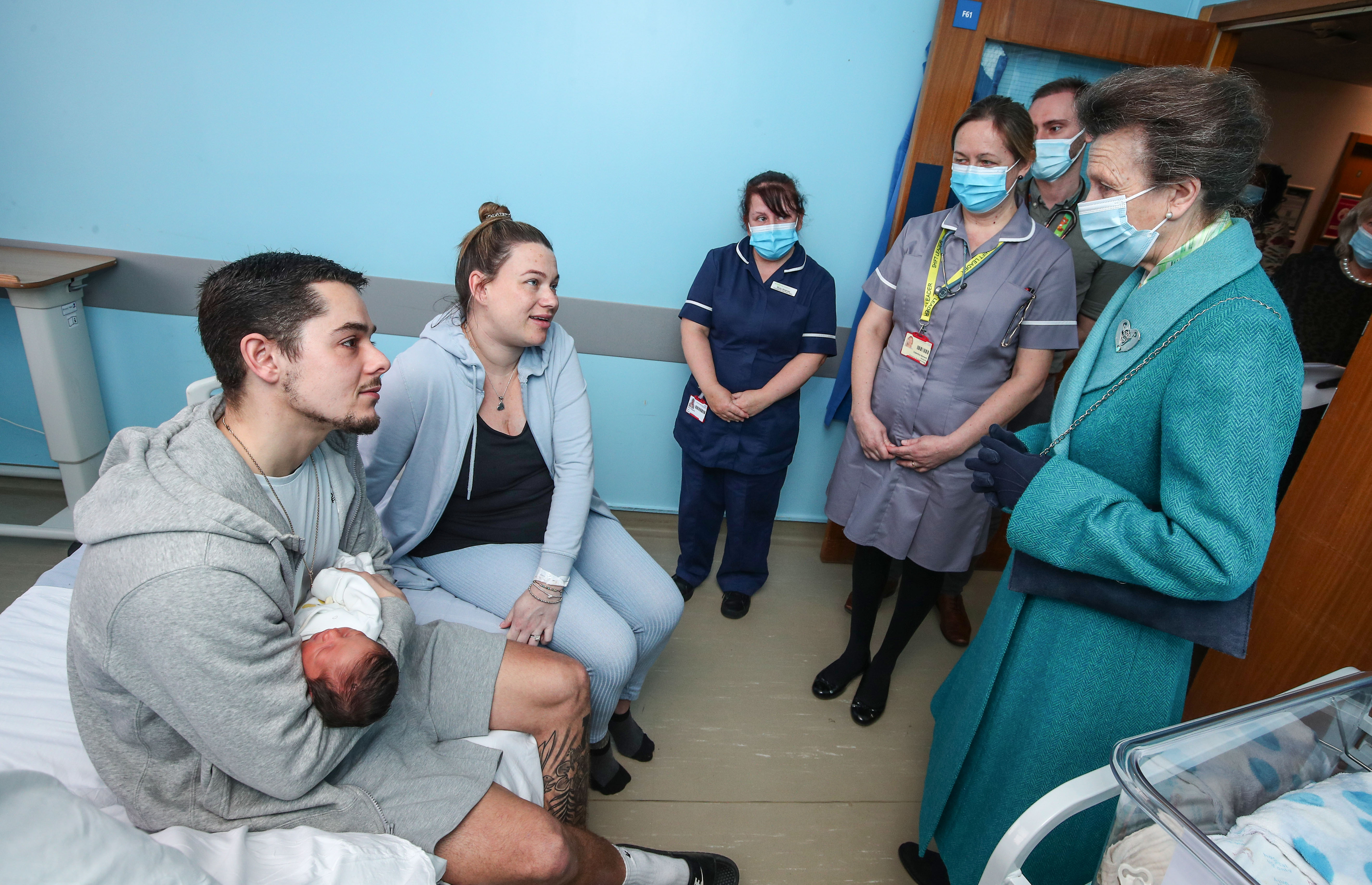 During the morning's visit she toured Broadlands Birth Centre and Burley Ward, meeting midwives, healthcare support workers, hospital staff and families.
The Princess Royal also stopped to speak with long serving midwives as well as those newly qualified to the role.
In the parent education seminar room, she visited a number of information stands manned by hospital staff, where Her Royal Highness heard about public health work currently ongoing with expectant parents around smoking cessation and vaccination.
She was also given an insight into digital transformation, including the newly-launched Maternity Triage Line, a service which gives expectant parents access to help, advice and support 24/7.
Princess Anne Hospital opened its doors on March 28, 1981. A centre of excellence for maternity care, it provides a comprehensive service, including home birth, for about 5,000 women each year from around Southampton and the wider surrounding area.
The hospital is also a regional centre for fetal and maternal medicine, providing specialist care for women with medical problems during pregnancy, and for those whose baby needs extra care before or around birth.
Other services provided at the Princess Anne Hospital include genetics and breast screening.
Emma Northover, director of midwifery at Princess Anne Hospital, said: "We were delighted to welcome HRH The Princess Royal to our hospital and show her just how far we have progressed since she last visited us to officially open Princess Anne Hospital.
"I know our midwives and hospital staff very much enjoyed having the opportunity to speak to her and highlight the great work happening across our midwifery teams."
At the end of the tour, the Princess Royal planted a tree outside the hospital on Coxford Road to commemorate her visit.