Services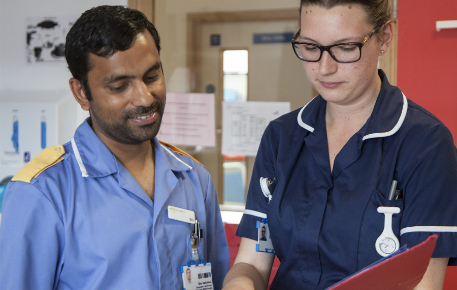 Hospital and community services
Acute medical care
We provide acute services for older people at Southampton General Hospital and Lymington Hospital. We also care for lots of people in their own homes, through the support provided by rapid response services.
Our acute admission unit at Southampton General Hospital is on C level, North Wing, near the emergency department. After being seen in the acute admission unit, we will decide if you can leave hospital or if you need to be admitted to one of our wards.
We know that needing to come in to hospital is an important stage in your care, and that some people are weaker and have more difficulties after recovering from an illness. We work to avoid this by making sure you are assessed early on by physiotherapists and occupational therapists, who can help you as needed.
Advanced care planning
We support people to plan for the future, sharing their preferences to make sure their wishes can be followed in the event of illness.
Advocacy for older people's healthcare
The majority of people needing healthcare are over 65 years old. We champion the needs of this group in a rapidly evolving health and social care environment.
Community services
We work closely with our community partners to assess patients, aiming to avoid them needing to be admitted to hospital. We have doctors working in our hospitals and in the community alongside the urgent response service, community independence teams and rehabilitation services in Southampton.
In west Hampshire, we work with the integrated community teams and provide acute medical care in Lymington Hospital, as well as stroke rehabilitation, a falls clinic and a movement disorders clinic.
Comprehensive geriatric assessment
We offer a comprehensive geriatric assessment (CGA), which looks at your health alongside how much you are able to do for yourself, and social factors. This allows us to produce a plan that is individual to you, and helps us to support you to be independent and avoid needing to be admitted to hospital.
We carry out these assessments wherever they are need - this could be at home, in an outpatient clinic, or when you are admitted to hospital.
Dementia
We have a dedicated team and ward for dementia patients and we assess every patient over the age of 75. Read more on the dementia ward pages.
End of life care
We support the care of older people at the end of their lives, particularly patients with heart failure, cancer and dementia, and work closely with the palliative care team.
Outpatients
As well as general outpatient clinics, we run clinics for syncope, tilt-table testing, falls, trauma and fragility, Parkinson's disease and comprehensive geriatric assessment.
Pharmacy
Almost all patients receive some sort of medicine during their time in the hospital. The pharmacy department makes sure the medicines you take are safe, appropriate and cost-effective. Find out more on the pharmacy pages.
Trauma and orthopaedics (medicine for older people)
We help to look after patients who come into hospital with fragility fractures and other trauma, including patients with hip fractures. These patients are cared for on wards F1, F2 and F3.