Video (virtual) clinics
Our video clinics are part of a secure video call service for patients with prearranged appointment times.
Powered by Attend Anywhere, this service allows patients access to their healthcare provider without the need to come into a hospital.
During the current coronavirus outbreak, we may conduct your face-to-face appointment via video clinic or by telephoning you. We will contact you to confirm any changes.
The video clinic service works best when accessed using the Google Chrome web browser on a PC, or Safari web browser on Mac (webcam required). You can also access our video clinics using an Android or Apple smartphone.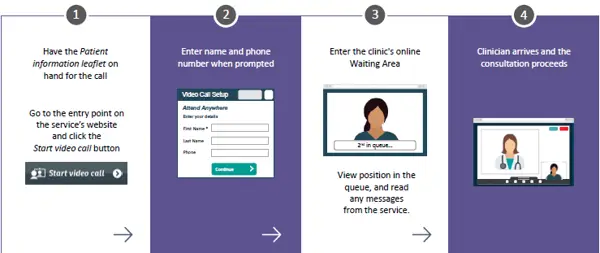 A set up guide is available here on the Attend Anywhere site.
If you're having technical issues with the video call system, please see the troubleshooting guide below.
Testing your connection
You can test your video connection before your appointment on weekdays between 10am and 4pm. Our team will be on hand to guide you through the process and address any concerns you may have.
Please note that this will not be available on bank holidays.
Please be aware that by clicking the 'Make a test call' button, you will be taking part in a test call and not your scheduled appointment. If you wish to join your consultation, please select the clinic link from the list below (you can find out which clinic you need from your appointment letter).
Make a test call

opens new window
Clinics
Use the links below to access a clinic (in alphabetical order):